Sooo, as I was sitting in my evening class last night, I was reminding myself to take some pictures and prep my blog post (as I actually have a new WiP to share this week!). I even stopped on my way home from class and bought another ball of yarn for my project. I got home and proceeded to fall asleep on the couch, turned off my alarm when it went off early this morning, heard my husbands alarm upstairs and tried to ignore it...and then FINALLY got up when I heard my cat working on a hairball (which made me spring up from the couch and sprint to him to try to get him onto the laminate floors but OF COURSE he puked on the small and only carpet in our kitchen. Why? WHY?) So, in order to get to work on time this morning, I had to forgo decent pictures of my WiP and will now have to provide you with the lovely cell phone picture taken on my work desk below.
I started work on an oversize, chunky cowl for my sister-in-law. Her birthday was back in June and I have been wondering what to get her (lol). Nothing was quite right...until I saw one of her Pinterest posts (have you been to this site?
Pinterest.com
. I warn you, it is slightly addictive.) She 'pinned' this gorgeous cowl and I thought "ah! That's it!"
I'm using Lion Brand Thick and Quick Wool Ease yarn in "wheat". I'm knitting on US 19 (15 mm) needles. It's quite meditative to knit this project - the yarn feels quite nice and it's straight knitting (so I can do it while reading my articles for school!). It's going to be really wide - something similar to this but maybe not quite as wide: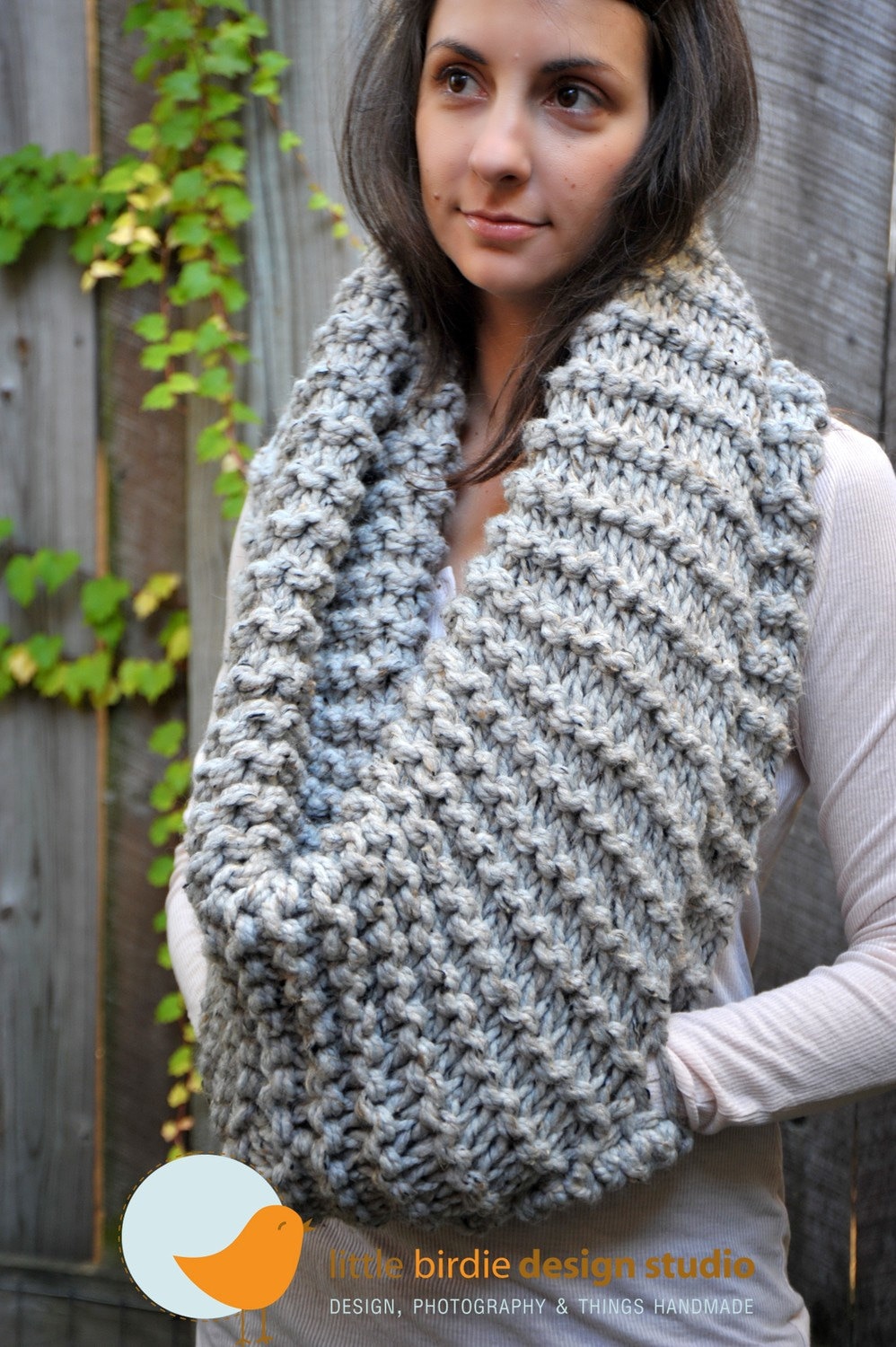 I cast on 80 stitches and will knit until I feel it's to my liking. Then I will seam it up. I considered knitting this in the round but I've seen some pictures where people use the seam (inside-out) as part of the fashion, so I decided to keep that an option for my sister-in-law.
I'm hoping to have this finished by the end of this weekend! There's an FO Friday in my future!
Go and check out everyone else's WiPs over at
tamisamis.blogspot.com
!